Scientific Program
Day 1 :
Session Introduction
Toowoomba Base Hospital Queensland, Australia

Biography:
Christopher Jackson, Resident Medical Officer from the Department Otolaryngology and Head and Neck Surgery in Toowoomba Hospital, Qld
Abstract:
Tonsillectomy is a common procedure performed by otolaryngologists. There appears to be significant variation in analgesic practices between hospitals and surgeons and some of this variation likely stems from considerations regarding post-operative bleeding risk, particularly with respect to non-steroidal anti-inflammatory drugs (NSAID). Previous studies have demonstrated peri-operative parecoxib administration to be associated with less acute pain than standard treatments. The aim of this study was to determine whether the use of intra-operative selective cyclooxygenase-2 (COX-2) inhibitors was associated with an increase in post-tonsillectomy bleeding (PTB) rates at our institution. Retrospective data were collected from patients at Toowoomba Hospital who underwent tonsillectomy from January 2016 until November 2017. Patient data including demographics, operation type and whether or not intra-operative Parecoxib was given to the patient was collected. Re-admission rates due to any PTB and return to theatre rates for each group were compiled and analysed. There were 574 patients who underwent tonsillectomy during the 20 months included in this study. 168 patients (29.3%) received a single dose of intravenous Parecoxib intra-operatively. The total re-admission rate for this period was 6.8% (N=39) with a return to theatre rate of 2.3% (N=13). For the patients that did not receive Parecoxib the re-admission rate was 6.2% with a return to theatre rate of 2.2%. For the patients who received Parecoxib the re-admission rate was 9.5% and 2.4% required return to theatre. Comparing those that had Parecoxib and those that did not there was a statistically significant (P<0.05) difference in re-admission rate but not in return to theatre rate.
Northwick Park Hospital, UK

Biography:
Wei Jia, an ENT (Otorhinolaryngology) specialist in Northwick Park Hospital, with years of experience in UK
Abstract:
Otolaryngology emergencies are common. Most patients presenting as an emergency do not require admission into hospital. This is an epidemiological study of the patients requiring admission by the Otolaryngology department. This retrospective study reviewed patient records over a 13 months period, obtained from the hospital coding department. The vast majority of admissions are conservatively managed and require no surgical intervention. Inflammatory/Infective conditions represent 55.77% of admissions.
Western Health, Australia

Biography:
Mr Walsh is an Australian-trained ENT surgeon. Having completed his Royal Australasian College of Surgeons fellowship in 2011, he then went on to complete post-fellowship training in the UK in rhinology. He operates at Linacre, Masada, Cabrini Malvern and Holmesglen Private. Publicly, he works at Western Health where he heads the multidisciplinary Head and Neck Cancer clinic.
Abstract:
Nasal trauma or aggressive over-resection of the cartilaginous nasal skeleton during cosmetic rhinoplasty lead to functional and aesthetic difficulties that differ according to the thickness of the soft-tissue envelope. Corrective surgery in these cases frequently requires the full reconstruction of the L-strut and lower-lateral complex using rib cartilage. The principles applying to the use of rib-grafts to reconstruct the cartilaginous skeleton of the nose in each case are discussed.
Vinnytsia Regional Clinical Hospital,Ukraine

Biography:
Vasyl Kishchuk, a professor from the department of ENT (Otorhinolaryngoglogy) working in the hospital of Vinnytsia Regional Clinical Hospital with a lot of experience in Ukraine
Abstract:
Background and aims: In the light of discussions regarding possible therapies of patients affected by a moderate recurrent tonsillitis (RT), for whom recent clinical guidelines recommend a watchful waiting period, the current clinical trial was performed. It assessed the effectiveness and safety of the homeopathic medicinal product SilAtro-5-90 in patients with moderate RT.The open-label randomized clinical trial was conducted in Germany, Spain and Ukraine in patients aged 6-60 years with moderate RT. The combined treatment of SilAtro-5-90 (Atropinum sulfuricum D5, Hepar sulfuris D3, Kalium bichromicum D4, Silicea D2, Mercurius bijodatus D8) and symptomatic medication (test group) was compared to symptomatic medication alone (control group). SilAtro-5-90 was given during 3 treatment periods of 8 weeks each. Endpoints were the mean period of time between consecutive acute throat infections (ATI) within 1 year (analyzed via repeated events analysis), the number of days the patients were suffering from RT symptoms as well as the incidence of adverse events (AEs). Trial results indicate that SilAtro-5-90 may be a well-tolerated and effective therapeutic option in the treatment of moderate.
Toowoomba Base Hospital Queensland, Australia

Biography:
Christopher Jackson, Resident Medical Officer from the Department Otolaryngology and Head and Neck Surgery in Toowoomba Hospital, Qld
Abstract:
Peritonsillar abscess is a common and well described complication of acute tonsillitis with potentially life-threatening complications if not managed in a timely and adequate manner. Global epidemiological studies have painted an emerging picture of increasing antimicrobial resistance patterns. The aim of this study was to characterise the epidemiology, management, outcomes and microbial flora and resistance patterns of peritonsillar collections at a large regional hospital in Queensland which services both rural and remote communities. Retrospective data was collected from patients diagnosed with peritonsillar abscess at Toowoomba Hospital Queensland from January 2013 to September 2017. Patient demographics, pre-hospital disease course, management, complications and abscess aspirate cultures and sensitivities were collected.This study confirms effective management of peritonsillar collection can be achieved via simple drainage with penicillin as a first line antimicrobial agent. The bacteriology and resistance patterns in this series are consistent with previous studies involving international centres.
The Gruppo Otologico, Italy

Biography:
Clinical Fellow in Otology, Neurotology & Skull Base Surgery at The Gruppo Otologico, Piacenza, Italy under Prof. Mario Sanna guidance. ENT specialist at Hillel Yaffe Hospital, Affiliated to the Technion University in Haifa, Hadera, Israel. Residency of Otorhinolaryngology, Head and Neck Surgery Department, Hadassah Ein Karem Hospital, Jerusalem, Israel. During the period I wrote scientific work under the guidance of prof. Sohmer 'Acoustic activation in the presence of an immobilized stapes, oval window and round window' Residency of Otorhinolaryngology, Head and Neck Surgery Department at Sheba Hospital.During the period I accepted the Tel Hashomer Award of Honorable Resident. Internship at Beilinson Hospital, which included elective in Otorhinolaryngology both in Tel Hashomer, Meir and Beilinson Hospitals.
Abstract:
In this retrospective study we describe the surgical technique of drill canaplasty for exostosis and osteoma and evaluate our results in 256 operated cases. As well, we propose a new grading system for external auditory canal stenosis (EACS). A systematically performed drill canalplasty via retroauricular approach, as described in this article, yields excellent postoperative outcomes as seen in our series. Notably, one-third of exostoses patients in this series, also suffered from otosclerosis. The proposed grading system for EACS enables the surgeon to objectively stage the disease.
Selcuk University, Turkey
Biography:
Bülent Ulusoy, forty one years old, an Assistant Professor in the Department of Otorhinolaryngology Head and Neck Surgery. He worked as ENT surgeon for 13th years.
Abstract:
All pathologies of cochlear implant patients may not be detected in radiology reports. In this retrospective study, patients who underwent cochlear implant surgery in our clinic between 2012-2018 were included in the study. Patients' radiologic images (high-resolution computed tomography: HRCT and magnetic resonance imaging: MRI) were reevaluated to identify cochlear malformations and other abnormal radiologic findings. The surgeon should evaluate the radiological images of the cochlear implant patient himself before the surgery in order not to miss the pathologies of the patient and to identify the points to be considered during surgery.
Biography:
Professor, MD, PhD, Scientific adviser; Professor of Otorhinolaryngology, Head and Neck Plastic Surgery, School of Medicine, University of Zagreb, School of Medicine J.J. Strossmayer University in Osijek, and Faculty of Dental Medicine and Health J.J. Strossmayer University in Osijek, Republic of Croatia, EU. Fields of Expert Activities: rhino surgery (nose/sinuses/skull base), plastic and reconstructive surgery of the head and neck, functional endoscopic sinus surgery (FESS),3D-navigation-computer assisted FES-surgery (3D-CA-NESS), computerized plastic reconstructive surgery (C-FPS). Surgical and Scientific Fields of Interest: rhinosinusology, functional endoscopic sinus surgery (FESS), plastic and reconstructive surgery of the head and neck, 3D navigation-computer assisted FES-surgery (3D-CA-NESS), telesurgery (tele-3D-CA-NESS), virtual endoscopy and surgery (VE, VS) of the head and neck, chronic sinusitis – immunobiochemical characteristics, rhinophotodynamic therapy (RPDT) of sinonasal polyposis
Abstract:
The use of modern technologies in head and neck surgery in the last 30 years (e.g., FESS, NESS, and robotic surgery) has enabled surgeons to demonstrate spatial anatomic elements in the operating field, which was quite inconceivable before. Simultaneous use of video image, 3D-forms of anatomic fields, navigation in space, and since recently the use of robots in surgery certainly provides higher intraoperative safety and reduces operating time, as well as the length of patient postoperative recovery. In this work, we were focused on development of personal-3D-navigation system and application of augmented reality in the operating room, management of image 2D-3D-video-medical documentation (virtual endoscopy), and control marker-based virtual reality simulation in real time during real operation with per viam contactless 'in the air' surgeon's commands. This approach has not yet been used in rhinosinusology or otorhinolaryngology, and to our knowledge, not even in general surgery.
University of Buenos Aires, Argentina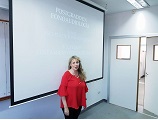 Biography:
Prof. Dr. Susana B Kunin (MD),Professor of Otorhinolaryngology, Faculty of Medicine from the University of Buenos Aires in Argentina. She is also the director of the Career of Medical Specialists in Otorhinolaryngology, Faculty of Medicine, University of Buenos Aires and a member of Jury of competitions of teaching career in National Universities. President of the Tinnitus Foundation for the diagnosis and treatment Participates in Congress as a member of the executive committee: President, treasurer, secretary, lecturer. Lecturer of the Medical Career Specialists in Otorhinolaryngology and courses for doctors and audiologists participates as a director and Coordinator of courses for Physicians and audiologist. You have been a NATIONAL AND INTERNATIONAL COURSES and CONGRESSES PRACTITIONER IN PNL. Conducts teacher improvement courses based on new teaching technologies courses in bioneuro emocion. Works in workshops with tinnitus Otorhinolaryngology Specialist Has worked at Otoacustic Emisson
Abstract:
Tinnitus is a complex symptom, which causes problems in their social, family and work life, especially in uncompensated chronic subjective tinnitus.There are different training mechanisms for various types of tinnitus. Early intervention favors its evolution, avoiding its passage to chronicity.The patient is decompensated . by a situation that causes hypersensitivity, making tinnitus a problem. It has been verified the important influence of structures involved in the central nervous system, such as the relationship of emotions and attention in their permanence and evolution. Habituation is an automatic brain function. That minimizes or blocks non-significant signals. If tinnitus is not associated with a catastophic or negative idea and does not alter the performance of daily activities: concentration, sleep. Habituation takes place and the perception of tinnitus is minimized. The treatment indicated should be personalized, paying particular attention to everything organic, and punctuating the emotions that trigger it. This allows different therapeutic indications, including cognitive behavioral therapy, changes in eating habits, sound therapy with sensory stimulation, meditation and relaxation. The integral and presonalized treatment allows us to achieve improvements especially when the patient feels responsible for its improvement when using also techniques of Neurolinguistic Programming and Bioneuroemocion.